CAS NO. : 32718-18-6
Molecular formula:C5H6BrCLN2O2 Molecular weight: 241.5
Structural formula: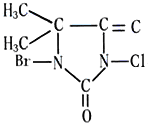 Properties:
white or off-white crystalline powder, slightly dissolved in water,dissolved in chloroform.ehtanol and other organic solvent,easy to decompose in strong acid or alkali,stable in dry state. having slight irritation odour.
Specification:
Item
Index
(BCDMH)
Top-grade
Qualified product
Bromochloro-5,5-dimethylimidazolidine-2,4-dione Mass fraction of , % ≥
98.0
96.0
Mass fraction of bromine, %
31.0~35.0
31.0~35.0
Mass fraction of chlorine, %
13.0~17.0
13.0~17.0
Melting point, οC
155~162
155~162
Loss on dry(60οC,1h)%
0.50
0.80
Chroma, YID1925
7.0
-
Insoluble in chloroform, % ≤
0.50
-
Uses:
mainly used in the disinfection of industrial circulating water, swimming pool, oil field water, spring, hospital sewage, medicinal facilities, aquaculture, food process, hotel, home, warehouse, custom and epidemic-stricken area;
Type of commodities:
Tablets:20G/Tablet, 80G/Tablet
granule: irregular granule from 8mesh to 30 mesh powder
Packing:
This product is sealed in paper-plastic multiple bag with lining of two PE bags,net weight:25Kg,flake product packaged in 25Kg paper sheet barrel with PE bag lining.This product should stored in shady dry environment forbidden to store with poisonous or harmful material,preventing from pollution.