Chemical name: 2,4,4'thichloro 2'-hydroxy diphenyaxide
CAS No.: 3380-34-5
Molecular formula: C12H7CL3O2 Molecular weight: 289.5
Structural formula: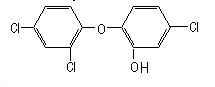 Properties:
Triclosan is a broad-spectrum antimicrobial used in many skin and oral care consumer products like soaps, deodorants and toothpastes. It effectively inhibits the growth of bacteria. This helps prevent the spread of germs, reduces the risk of infections, controls odors, and can prevent certain dental diseases. Triclosan provides an added layer of hygiene.
Specification: USP24
Item
Indication
Appearance
Fine Crystalline powder
Color
whitish
Odour
Weak Aeomatic/Phenolic
Content
99.0%Min
Melting points
56-60Deg.C
Ash
0.1%Max
Moisture
0.1%Max
Heave metals (Pb)
10PPM Max
Solubility in 1M NAOH (Non Phenolic Compound)
Clarity: Clear to faint turbid
Colour : 150 APHA MAX.
Product Application:
The most common applications for Triclosan are bar and liquid soaps, underarm deodorants, toothpastes and mouthwashes, anti-acne and foot-care products, and hand washes for hospitals. Other specialized applications utilize Triclosan in fibers for odor control and in plastics such as cutting boards and conveyor belts for food processing. Such applications must meet strict criteria for performance and claims are regulated by various agencies.
Recommended Usage:
| | |
| --- | --- |
| Item | Dosage |
| Deodarants | 0.3-0.5 % |
| Detergents | 0.3-0.5 % |
| Diswashing | 0.3-0.5 % |
| Foot | 0.3-0.5 % |
| Hair Shampoos | 0.3-0.5 % |
| Medicated Gloves/Scrub | 0.5- 1 % |
| Paints | 0.5- 1 % |
Package:
Net weight 25KGS/Drum, 36(D)*46(H)Cm