CAS No.: 15214-89-8 Synonymous: AMPS
Molecular formula:C7H13NO4S Molecular Weight: 207.24
Structural Formula: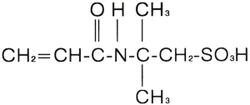 Property:
strong hygroscopicity,,if damped,the 2-AMPS-A monomer will gather by itself.. The aqueous solution is acidic, it dissolved in Dimethyl amide,part of the product dissolved in methanol、ethanol, but do not be dissolved in acetone
Technical Index :
| | | |
| --- | --- | --- |
| Items | Special high quality part | High quality part |
| Appearance | white crystal powder | white crystal powder |
| Non-volatile matter,%(m/m) ≥ | 99.0 | 99.0 |
| Acid value, mgKOH/g | 275±5 | 275±5 |
| Melting point,0C ≥ | 185(decomposition) | 185(decomposition) |
| Water content,%(m/m) ≤ | 0.5 | 1.0 |
| Fe,%(m/m) ≤ | 0.0005 | 0.0010 |
| Chroma(25%water solution),Co-Pt≤ | 80 | 100 |
Usage:
In the structure of the AMPS there are strong anion and water-soluble sulfur group, shield the amide group and the unsaturated double bond, these make the 2-AMPS-A have the excellent performance. The 2-AMPS-A has the excellent synthesis、adsorptivity、biological activity、surface activity、hydrolytic stability and thermal stability. It can be used in co-polymerization and in addition reaction, it is widely used in water treatment 、oilfield chemicals、chemical fiber、water absorbent material、plastics、paper making、spinning、printing and dyeing、biomedicine、magnetic material and makeup etc.
⑴ Water treatment: The 2-AMPS-A monomer homopolymer with the acrylamide 、acrylic acid monomer homopolymer, they could be sludge dehydrating agent in the sewage purification process and preservative of the iron 、zinc、aluminum、cooper、alloy in the closed water circulation system, they also could be used as cleaning and scale inhibitor of heater 、cooling tower、air cleaner、gas-cleaner.
⑵ Oilfield chemistry: This product develops rapidly in the application of the oil field chemistry. The scope includs oil well cement admixtures、drilling fluid additive、acidizing fluid、well completion fluid、work over fluid、fracture fluid.
⑶ Synthetic fibre: The 2-AMPS-A is the important monomer which could improve the combination property of some synthetic fibre, in particular, the orion and the modacrylic fiber with chloride, the dosage is the 1%-4% of the fiber, it could improve the white content、dyeing property、antistatic、ventilation property and flame resistance.
⑷ The application for the textile: The copolymer of the acrylamide-2-methylpropane sulfonic acid 、ethyl acetate and acrylic acid, it is the ideal size of the cotton and the polyester blend fabric, it has the characteristic of easy to use and easy to remove by water.
⑸ Paper making: The copolymer of the acrylamide-2-methylpropane sulfonic acid with other water-soluble monomer, this is the indispensable chemical in all kinds of paper making factory, it could be used as the drainage aid and on gel, it could increase the strength of the paper, it also could be used as the pigment dispersing agent of color coating.