Molecular formula: C3H6O3 Molecular Weight: 102.09
Structure: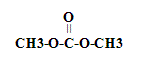 Properity:
Under normal temperature,it is a colorless,transparent liquid with a molecular weight of 90.08. It has a melting point of 4℃ and a boiling point of 90.3℃. It can be mixed with such organic solvents as alcohol,ketone,ester,etc. at any proportion but it is slightly soluble in water.
Specifications:
Item
Indicators
Excellent grade
Level Commodities
Color (Pt - Co), No. ≤
5
10
DMC content,% ≥
99.95
99.5
Moisture,%≤
0.01
0.1
Moisture, %≤
0.08
0.20
Non-volatile matter,%≤
0.01
0.02
Usage:
It is a perfect methylating agent,carbonylating agent, methoxylating agent and methyloaring agent with active chemical properties. It can be used into produce polypropylene carbonate. In pharmaceutical and pesticide,DMC can be used into produce ciprofloxacin and carbadox. Also it is a indispensable raw material to produce lithium battery electrolyte. Because of its excellent chemical and environmental property, recently DMC is acting as a good sovent for coating, paints,ink and adhesive substituting the benzene,xylene,ethyl Acetate, butyl Acetate,acetone,butanone,toluene.It is an ideal substitute for toxic substances such as phosgene, dimethyl sulphate,and methyl chloraformate. Thus, it is a green chemical product.
Packing:
200KG/Drum