CAS No. 7758-87-4 1306-06-5
Molecular Formula: Ca3(PO4)2 Molecular weight: 310.18
Structural Formula: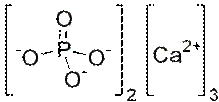 Properties:
Calcium phosphate tribasic white or white-gray amorphous powder, odorless, non-toxic, melting point 1670 ℃. Soluble in acid, slightly soluble in water, insoluble in ethanol.
Specification:
| | |
| --- | --- |
| items | Index |
| Phosphorus content% | 16min |
| Calcium content% | 33min |
| Fluoride content% | 0.05max |
| Arsenic content% | 0.005max |
| Heavy metals (Pb)% | 0.003max |
| Fineness (through the test section 200um) | 95min |
Usage:
The product used for feed additives, it is very important phosphorus, calcium additives, the animal feed has a long shelf life and difficult to mildew, easy to digest and absorb. It can accelerate the growth and development of livestock and poultry, and enhance disease resistance, rapid weight gain so reduce the fattening period, It can also be used for ceramics, glass and powder milk, and used as a plastic stabilizer, polishing powder, syrup clarifier, fertilizer and so on.
Package and Storage:
25kg 50kg in plastic barrel, Stored in a cool dry place.
Synonym: Calcium Hydroxide Phosphate; Tricalcium Phosphate; Bone Flour.